As stay-at-home orders were issued across the country, a home quickly became more than just a "home". It is a school, a gym, a playground, and an office. After spending months at home, many buyers are re-evaluating what they truly want and need in their space.
Lawrence Yun, Chief Economist at the National Association of Realtors (NAR) explains:
A number of potential buyers noted stalled plans due to the pandemic and that has led to more urgency and a pent-up demand to buy. After being home for months on end – in a home they already wanted to leave – buyers are reminded how much their current home may lack certain desired features or amenities.
With businesses reopening throughout the country and some experts indicating early signs of a much-anticipated economic recovery, more homebuyers are actively entering the housing market this summer. With so many buyers looking for homes to purchase and so few houses for sale right now, there's a disconnect between supply and demand. This imbalance is pushing home prices upward while driving more bidding wars and multiple-offer scenarios.
How can sellers be sure to capitalize on this opportunity? What can homeowners do to be sure that their properties sell this year? And what features are most important to homebuyers?
Features homebuyers are looking for now
For their latest Market Recovery Survey, NAR polled real estate agents about their respective real estate markets, asking the question: "Have your clients changed what home features are important in a new home due to COVID-19?"
Thirty-five percent of the agents surveyed said buyers have modified at least one home feature or amenity that is important to them because of the coronavirus outbreak. The graph below summarizes the results of the survey.
Not surprisingly, the most common home features cited as increasingly important are a home office, and more space, both to accommodate additional family members and to have personal space. Buyers also expressed a desire for larger yards for growing food as well as for exercise. Access to broadband internet is more important than ever as more people work from home.
home office
space for family members, such as older adult relative(s), newborns or new pets
larger homes with more personal space
bigger yard for growing food
yard for exercising
access to broadband internet
bigger kitchen
swimming pool.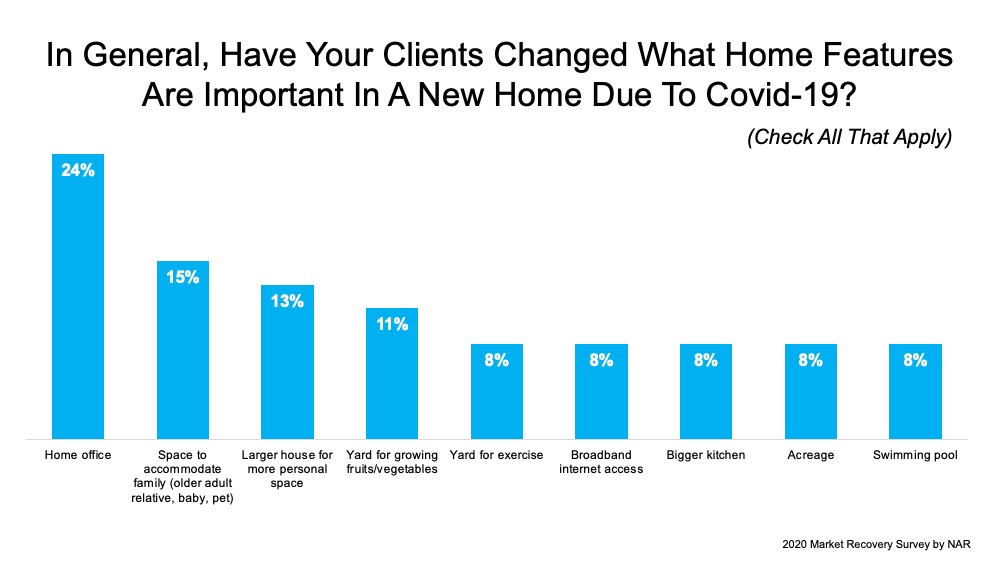 Migration to the suburbs
The survey results also show that among buyers who indicate they would now like to live in a different area due to COVID-19, 47% have an interest in purchasing in the suburbs, 39% cite rural areas, and 25% indicate a desire to be in small towns.
Many families are no longer comfortable with the locations and layouts of their existing homes. The allure of city life (more congested) seems to be giving way to either suburban or rural life (less congested). The fascination with an open floor plan seems to be fading as people are finding a need for more privacy while working from home.
Also, in response to the pandemic, some homebuyers changed their home type of choice from multi-family to single-family. This shift was highest in urban markets at 16%.
Buyers have adjusted commuting needs since the pandemic began, with 22% less concerned with their commute and 7% wanting to live close to bike trails that connect them to work. Just 5% responded that they now have a greater concern about parking and more concern for a location that affords the ability to drive to work.
What does this mean for you?
Buyers are eager to find a new home. Mortgage rates have hit an all-time low, dropping below 3% for the first time last week. Potential homebuyers are poised to continue taking advantage of this historic opportunity to buy.
This fierce competition among buyers is contributing to home price increases as well, as more buyers are finding themselves in bidding wars in this environment.
Inventory is arguably the biggest challenge for buyers in today's housing market, even before the pandemic. Total housing inventory at the end of May was down 18.8% from a year ago.
There are simply more buyers actively looking for homes to purchase than there are sellers selling them. The houses that do come to the market are selling very quickly.
As a result, there is an unique opportunity for seller's thinking about jumping back into the real estate market.
If you're considering selling and your current house has some of the features today's buyers are looking for, you'll likely be able to sell at the best price, in the least amount of time, and will be able to take advantage of the low interest rates available right now when buying your new home.